While most are sound asleep, or in many cases just getting home, the day for Godolphin Australia's head trainer James Cummings is just beginning.
The public get to see 34-year-old Cummings all suited up and looking the part of a focused young man on raceday, what they've missed along the journey to the enclosure is the countless hours of preparation which have gone into presenting horse and trainer at that precise moment.
There he is, instructing jockeys and listening intently to their explanations post race, talking with his inner sanctum and taking media commitments in his stride. All in a day's work.
However "game day" is only the final moments of endless hard work and planning which has gone on behind the scenes over the preceding days, weeks, months and even years.
This week I was fortunate enough to spend a Day In The Life with James Cummings, and it's a long and intense 24 hours I've got to say.
SPECIAL SPRING CARNIVAL OFFER: BECOME A RACENET IQ MEMBER FOR ONLY $ 1!
3am:
The daily ritual begins with Cummings having his alarm permanently set for the same time each morning.
Cummings is picked up at his eastern suburbs family home by his trusty driver and friend, Chris Nethery, and the pair make their way out to Warwick Farm.
"Trainers get used to the early starts, " Cummings said.
4.15am:
Arrives at Warwick Farm to get ready for trackwork. The Godolphin stable have 65 in work at the south-western Sydney racecourse including many of their new season two-year-olds.
"We try to get the two-year-olds worked early, " Cummings said.
"Then we spend an hour on the road again getting out to Agnes Banks. "
James Cummings keeps a watchful eye on his horses in trackwork. Picture: Julian Andrews
7am:
Cummings arrives at Godolphin's Osborne Park at Agnes Bank near Richmond, north-west of Sydney.
Godolphin has 80 horses in work at their picturesque private training complex which has the Hawkesbury-Nepean River at the back of the property and the Blue Mountains as a backdrop.
"We are fortunate to have certain advantages like this property at Osborne Park, " Cummings said.
9.15am:
Trackwork is completed and Cummings makes his way through each of the stable barns as veterinarians check the soundness and well-being of every horse.
Anamoe is paraded, trotting up in front of Cummings' watchful eye, his action free and coat gleaming in the morning sunshine.
"He looks great, pulled up so well from his first run, " Cummings enthused." It sets him up for the spring now. "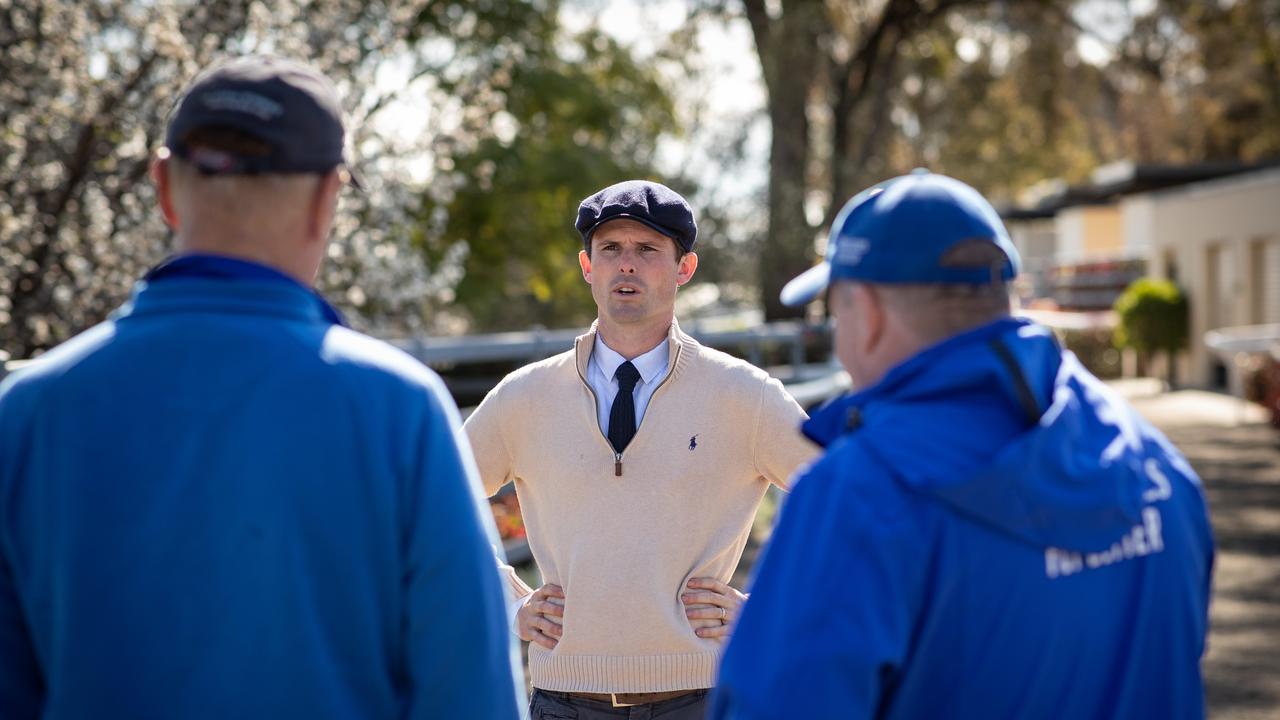 James Cummings talks with assistant Paul Reid and the Godolphin vet at Osborne Park, Agnes Banks. Picture: Julian Andrews
10.30am:
Cummings enters his office at Osborne Park. Sky Thoroughbred Central is on in the background as the trainer has a cup of coffee and late breakfast.
The Godolphin trainer has already been going non-stop since the alarm went off at 3am but his day is only just beginning.
11am:
Cummings turns his attention to a mountain of paperwork on his desk.
He pores over the training and race programs of every horse in the stable while his personal assistant Cath Carson, finalises jockey bookings and horse transport arrangements.
"Cath takes on a pretty stressful role dealing with jockey managers and float managers, " Cummings said.
"She has to piece it all together each day – I don't know how she does it!"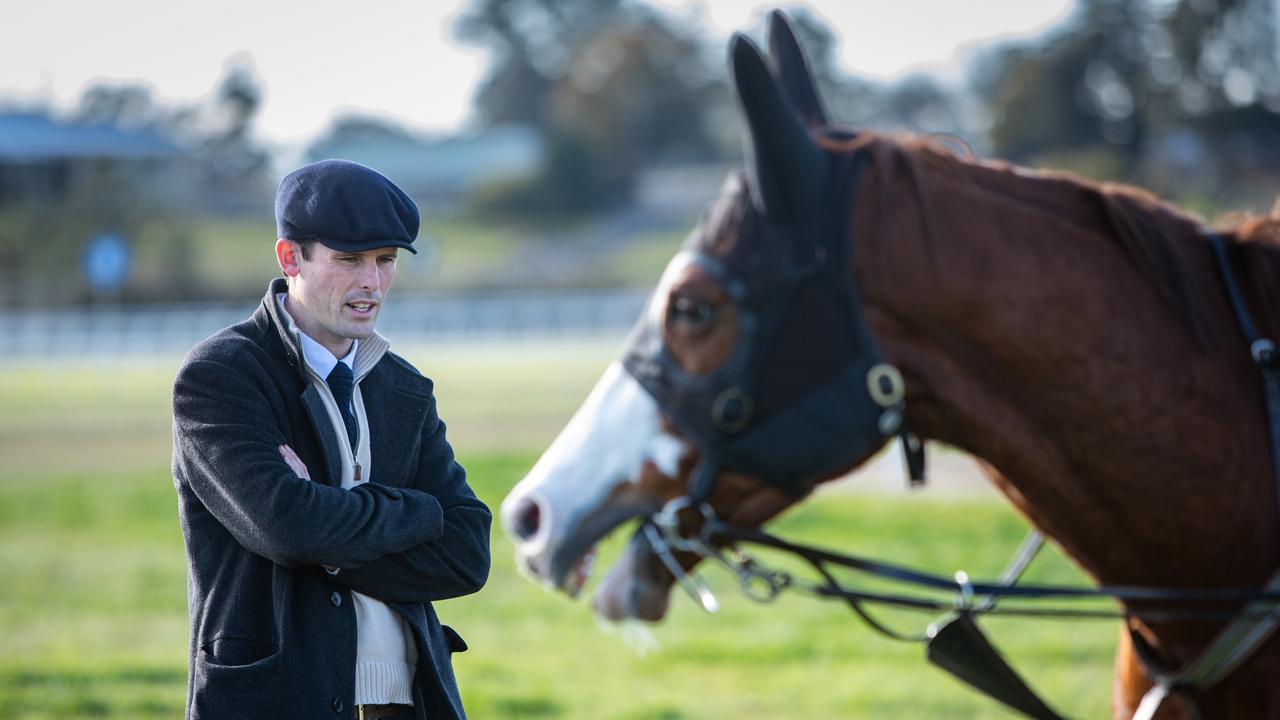 Group 1 performer Cascadian gets the once over from James Cummings. Picture: Julian Andrews.
1pm:
Most Mondays and Tuesdays are frantic at Godolphin and Cummings rarely gets time to even stop for lunch.
Later in the week, Cummings would like to squeeze in nine holes of golf in the afternoon with some of his stable staff but time is his enemy.
"I can never get out for nine holes of golf these days, " he lamented.
"My handicap is down where it hurts now and I need to get out and practice more but that is hard to do when I need to be home by about 5pm. We have four kids to look after. "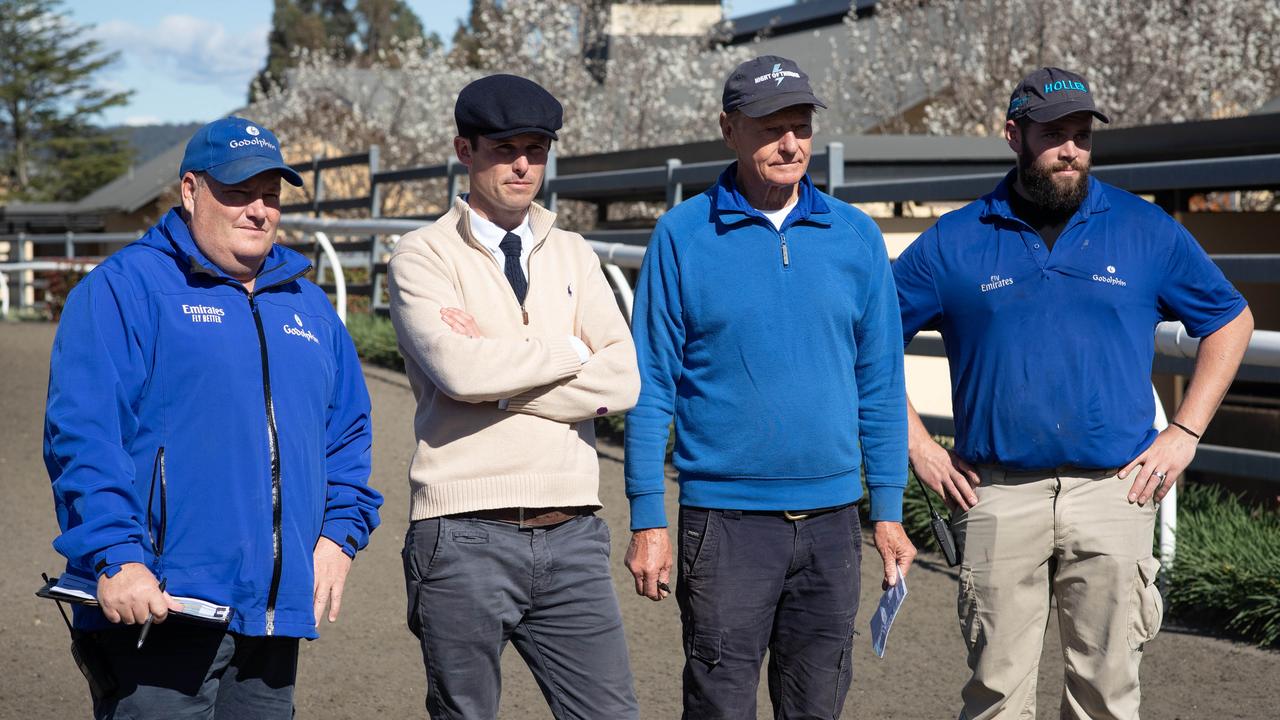 The Godolphin team keep a close eye on every horse at Osborne Park. Picture: Julian Andrews
3.30pm:
Cummings takes another walk through the stables, making sure all his horses are back in their boxes, their feed bins full and they have access to plenty of water.
"We might have some horses we need to look at after they have raced or trialled somewhere else, or some that might have come in from the paddock, " he said.
"There might be some X-rays we need to check on some horses to see how they are developing and maturing. "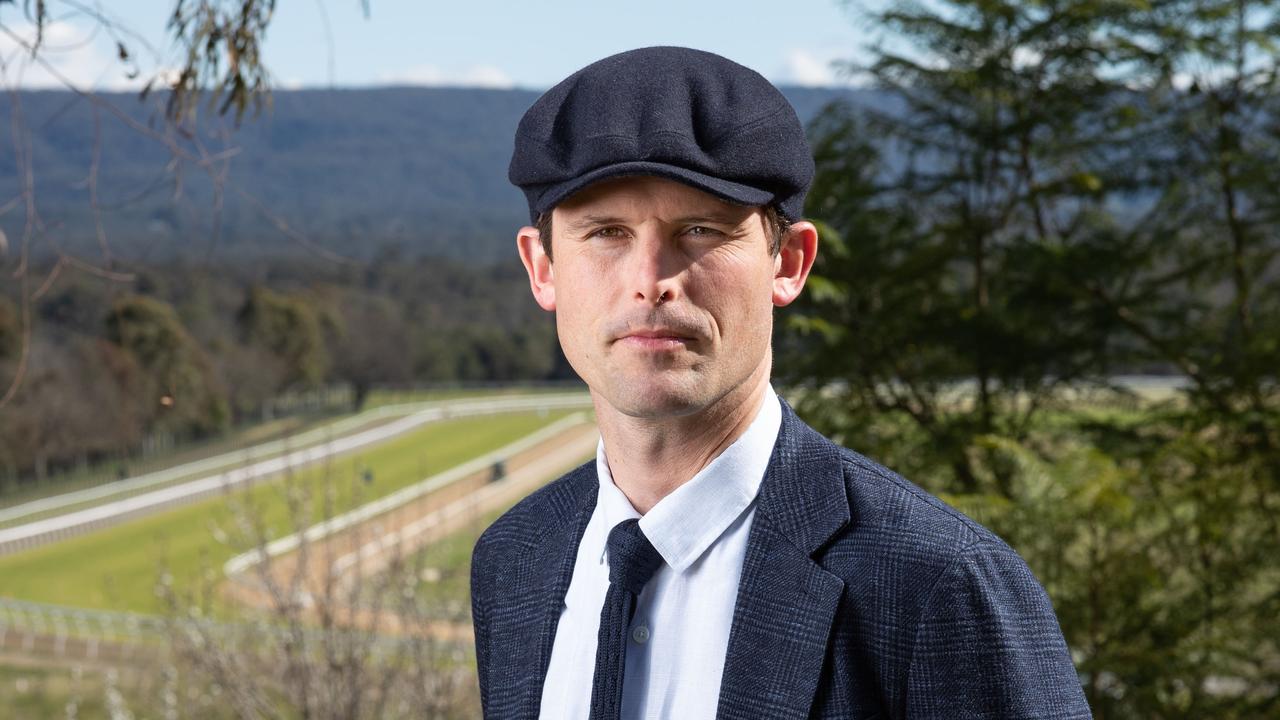 James Cummings with the Osborne Park training facility in the background framed by the Blue Mountains. Picture: Julian Andrews
5pm:
Cummings likes to be home around 5pm most days so he can be with his wife, Monica, and spend time with their four young children, Adeline (7), Harvey (5), Mia (3) and Oliver (10 months).
There is an unwritten law among racing media not to contact trainers and jockeys in the evening unless absolutely necessary as this is their family time but Cummings probably couldn't answer his phone anyway because his working day is only getting busier.
"For any young Dad now, you are a leper if you don't change nappies and get the kids bathed, " Cummings said.
8pm:
After being on the go for 17 hours, Cummings' day finally ends and he's in bed early most nights.
After such a long, exhausting daily work schedule, the trainer revealed he has no trouble falling asleep.
"When you have a clear conscience it is easy to go straight to sleep, " Cummings said.
The entrance to Godolphin's Osborne Park at Agnes Banks. Picture: Julian Andrews