business
Rural property sales slump | interest.co.nz
The rural property market remains anaemic, with sales of farms and lifestyle blocks remaining at very low levels.
The Real Estate Institute of New Zealand recorded 173 farm sales over the three months to the end of October, down 36% compared to the same period last year.
Lifestyle block sales were similarly depressed with 1242 sales in the three months ended October, down 28%.
Rural property sales generally follow regular seasonal trends with sales declining over winter and then picking up again over summer, with those trends clearly evident in the graphs below.
This year has been no different, except that the winter low has been deeper than previous years, suggesting the summer pickup may also be at a lower level than normal.
"This significant reduction in sales strongly mirrors the situation being experienced in the residential market," REINZ rural spokesman Brian Peacocke said.
"One of the major factors is inflation and the resulting increase in the Official Cash Rate, which is driving up interest rates.
"Issues relating to the levels of equity, cash flow and serviceability for potential borrowers are being heavily impacted by the increasing interest rates, which in turn are heavily impacting sales volumes across the country," he said.
However, rural property prices have not been as badly affected.
The REINZ All Farm Price Index, which adjusts for differences in the mix of farms sold each month by size, type and location, was down just 1.6% over the three months to October this year compared to the same period of last year, while the median price of lifestyle blocks sold rose 7.7%.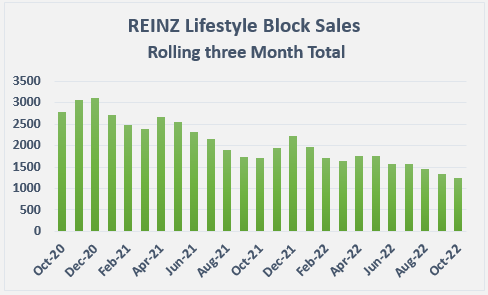 You can have articles like this delivered directly to your inbox via our free Property Newsletter. We send it out 3-5 times a week with all of our property-related news, including auction results, interest rate movements and market commentary and analysis. To start receiving them, register here (it's free) and when approved you can select any of our free email newsletters.